Three Strikes
Three-Strikes and Career Offender Cases
Mr. Dudley has represented defendants facing three-strikes or career offender allegations in both federal and state courts. Frequently, he has been able to persuade prosecutors or courts to strike or disregard certain prior convictions for sentencing purposes, resulting in substantially reduced penalties for his clients.
In federal court, Mr. Dudley has regularly obtained for his clients sentences far less than those mandated by statute or suggested by the career offender provisions of the Sentencing Guidelines. In state court, he has obtained minimal prison sentences, and even probation, for many defendants facing potential life sentences pursuant to three-strikes or career-criminal laws.
What Are Three-Strikes Laws?
Three-strikes laws, like other career criminal statutes, target those who may be considered repeat offenders. The three-strikes name is borrowed from baseball terminology, as in "three strikes and you're out". In this context it means that if you are convicted of a third felony after two previous serious or violent "strikes", (felony convictions), you will likely be facing a life sentence.
In order to qualify as one of the first two strikes, the previous felony convictions usually have to be violent crimes, or attempts to commit these crimes. These can include:
Arson
Home burglary
Armed robbery, or any other crime involving a weapon
Carjacking
Rape, child molestation, and other sex crimes
Crimes involving explosives
Committing the Third Strike
While the first two strikes are usually serious crimes, some of these laws do not require the third strike to be of a similar nature. Any new felony, regardless of how minor, will likely be charged as a third-strike felony. In some states, like California, a crime as minor as shoplifting can trigger a third strike charge.
Consequences of a Conviction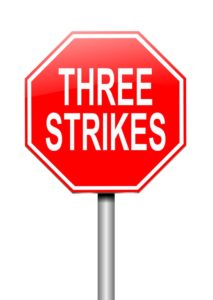 Even in cases where there is only one prior felony conviction, career offender statutes may mandate tougher sentencing guidelines, such as requiring time in prison, limiting time off for good behavior, or doubling sentences compared to first time offenders.
In most cases a conviction on a third strike will result in a sentence of 25-years-to-life, with no chance of early release. Parole may be granted after 25 years, but it is not guaranteed. In cases of life-without-parole, there is no chance of being released.
Federal Criminal Defense Attorney
If you're facing your third strike, you'll need an experienced and highly aggressive criminal defense attorney on your side. To schedule an evaluation of your case with Mr. Dudley, contact our office today. For nearly three decades, Mr. Dudley's law practice has taken him across the country, representing individuals facing major criminal allegations in 36 different states. He has represented defendants seeking post-conviction relief, and is admitted to the United States Supreme Court and seven federal circuit courts of appeal.
Three Strikes and Career Offender Cases: Selected Case Results
P. v. S.H..: Defendant was facing a life sentence for a third-strike conviction after being arrested in a vehicle with counterfeit bank checks and the equipment used to manufacture those checks. Pursuant to a plea agreement, the defendant received PROBATION with NO JAIL TIME.
P. v. R.M.: Defendant was charged with possessing a firearm and resisting arrest as a three-strikes case. Under a plea agreement, the defendant received PROBATION with NO JAIL TIME.
P v. C.C.: Defendant, who had three robbery convictions in two different states, was charged in a three-strikes matter involving a fraud scheme he was allegedly perpetrating. Before trial, the judge was persuaded to strike all but one of those convictions. As a result, the defendant later received a sentence of only four years in state prison as opposed to a life term.
P. v. C.O.: Defendant was charged in a three-strikes drug case. Prior to trial, the court dismissed on the defendant's motion one of the two violent prior convictions. Consequently, the defense was able to negotiate a plea agreement for 32 months.
S. v. F.J.: As part of a two-state drug investigation, law-enforcement officers observed the defendant empty a four-gallon container of PCP minutes prior to his arrest. Facing a potential life sentence as a career criminal, the defendant, pursuant to a plea agreement, received a non-aggravated prison term of only four years, serving just one of those years.
S. v. K.P.: As part of a state wiretap investigation, state troopers arrested the defendant driving a vehicle which contained 100 pounds of marijuana. Due to previous federal and state drug convictions, the defendant was potentially facing an enhanced career-offender sentence of at least ten years. After lengthy plea negotiations, the defendant ultimately received a prison term of twenty months, actually serving twelve.
U.S. v. T.G.: Under the career offender provisions of the United States Sentencing Guidelines, the defendant was facing a potential sentence of 30 years to life for a methamphetamine manufacturing and distribution case. Through plea-bargaining and sentencing mitigation argument, the defendant eventually obtained a sentence of just over six years.
U.S. v. T.S.: In a federal drug case, the defendant, due to his career offender status, was facing a sentence of more than 24 years even after pleading guilty. At sentencing, the defense convinced the court to depart downward to a sentence of approximately 12 years.
U.S. v. R.H.: Defendant was facing federal firearms charges in two states as an armed career offender. Although his potential guideline sentence for both cases was 25 to 30 years even with his acceptance of responsibility, the defendant ultimately received the statutory mandatory minimum sentence of fifteen years under a plea agreement covering both jurisdictions.
U.S. v. J.G.: Because he had two prior felony drug convictions, the defendant was looking at a potential life sentence upon his arrest for possessing slightly more than five kilograms of cocaine. After a settlement of the case was reached, the defendant received a sentence of only 70 months.