Robbery and Kidnapping
Federal Robbery and Kidnapping Defense
Mr. Dudley has defended a wide range of robbery cases involving defendants accused of robbing banks, jewelry stores, other retail establishments and individuals. Through aggressive representative both before and during trial, Mr. Dudley has obtained favorable results over the years in these cases.
To increase potential penalties in robbery cases, prosecutors often pursue kidnapping charges. Mr. Dudley has consistently defeated the kidnapping charges in these matters either before or during trial. He has also had success in defending against other penalty enhancements such as gang and firearm allegations.
Robbery Charges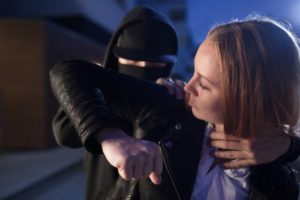 Robbery is an act of theft that involves the threat or use of violence. Robbery requires the taking of property while in the presence of the victim. Other facets of the crime include the alleged robber taking actual possession of the property, even it is just for a short time.
The stolen goods do not have to be taken away from the scene of the crime to constitute a robbery. Once the alleged criminal has taken possession of the property, the offense is complete, even if the property is quickly abandoned.
Common federal charges involve the robbery or attempted robbery of financial institutions such as banks, credit unions, and savings and loans. Bank robbery cases can illustrate how robbery charges can be added to by prosecutors by using circumstances such as weapons, or kidnapping.
Robbery and Violence
Federal statutes state that any person who uses force, violence, or intimidation to take money in the care of a financial institution can be sentenced up to 20 years in prison. In the same robbery, if a person is assaulted, or their life is jeopardized by the use of a deadly weapon, the penalty increases to 25 years.
Kidnapping During a Robbery
Kidnapping charges would be included if hostages are taken to facilitate the robbery or aid in escape after the crime. A person is considered kidnapped during a robbery if he or she is confined or forced to accompany someone against their will in an attempt to avoid arrest for the commission of bank robbery.
Kidnapping charges add 10 years to a sentence. If someone is killed in the commission of the act, the crime can be punished by life imprisonment or the death penalty.
Robbery and kidnapping charges are severe and can affect a person's life forever. If you are facing these charges, you will need an experienced and qualified defense attorney to aggressively defend your rights. Contact Mr. Dudley for the representation you need. He has represented individuals facing major criminal allegations in 36 different states and handled matters in both the trial and appellate courts, state and federal. He is admitted to the United States Supreme Court and seven federal circuit courts of appeal.
Robbery and Kidnapping Defense Case Results
P. v. T.L.:  The defendant was accused of being the mastermind of an $800,000 jewelry store heist in Beverly Hills, California, during which numerous employees were taken hostage and moved to interior portions of the store.  Executing a search warrant, police detectives found all of the stolen jewelry inside the defendant's residence.  At trial, Attorney Dudley was able to persuade the court to DISMISS  the kidnapping for robbery count, which carried a mandatory life sentence, against his client and the other defendants who were supposedly acting at his client's direction.  As to robbery charges, Mr. Dudley obtained a HUNG JURY as to all counts, even though the jury convicted his alleged subordinates on each of those charges.
P. v. L.S.:  The defendant was accused, with several co-defendants, of robbing a hotel.  Before trial, the district attorney offered the defendant a plea bargain which would have allowed him to serve four years in prison, as opposed to the twenty-year maximum sentence he was facing.  The defense rejected the offer and went to trial.  Although the defendant was convicted at trial, the Court, having heard evidence about the defendant's minimal and arguably unwilling participation in the robbery, sentenced him to a term of PROBATION with three months of county jail time as a condition of probation.
P. v. K.P.:  The defendant was implicated as the getaway driver in several robberies of cellular phone and gaming stores.  Prosecutors charged him and his co-defendants with kidnapping several victims in furtherance of the robberies and gang activities.  Consequently, the defendant was facing a potential life sentence.  At preliminary hearing, the defense successfully moved to DISMISS the kidnapping for robbery count and the gang allegation.  As a result of those dismissals, the defendant was able to negotiate a plea bargain for only four years in prison.
S. v. A.J.:  The defendant was arrested after he and several co-defendants robbed a bank in small, suburban Indiana town.  The arrest was precipitated by a high-speed chase down the wrong side of a busy freeway, during which shots were fired from the defendant's vehicle at pursuing police officers.  Charged with several counts of bank robbery and assaulting police officers with a firearm, the defendant was looking at a potential prison sentence of over 60 years, and possibly life if federal authorities decided to adopt the case.  Providing the defendant with an aggressive defense, Attorney Dudley was eventually able to negotiate a plea bargain which allowed his client to receive a prison term of seventeen years, of which he served about eleven.
P. v. S.T.:  The defendant, who had a prior felony record, was accused of a grab and shove robbery outside of a jewelry store in a shopping mall.  Mr. Dudley was able to negotiate a plea to a reduced charge which resulted in a sentence of PROBATION.
P. v. V.F.:  The defendant, who had an extensive criminal record and was on probation for a felony theft offense, was arrested for robbing a liquor store.  The owner of the liquor store positively identified the defendant as the culprit and a security video, upon initial review, depicted a man who closely resembled the accused.  Attorney Dudley, however, hired an audiovisual expert who digitized the video and enhanced its quality considerably.  The enhanced video demonstrated that the actual robber was at least four inches taller than the defendant.  Consequently, the prosecution agreed to DISMISS the case