Firearms
Firearms Allegations Defense Lawyer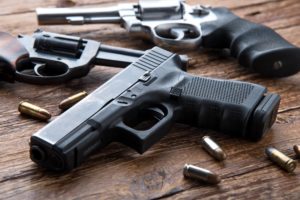 Mr. Dudley has defended against numerous types of firearms prosecutions, including:
Prosecutions for unlawful weapons possession by convicted felons
Possession of illegal firearms such as fully automatic assault rifles and sawed-off shotguns
Carrying concealed weapons
Possessing illegal ammunition
Firing at inhabited dwellings
Passing through airport security with guns
Using a firearm during the commission of a drug-trafficking crime
Discharging a firearm in furtherance of gang-related offense
These prosecutions have principally been in federal court, but some have been in state courts as well. Repeatedly throughout his career, Mr. Dudley has defeated firearms and other weapon allegations at trial or through pursuing pre-trial dismissal motions.
Firearms Allegations Defended
Unlawful Weapons Possession by Convicted Felons — possession of a firearm by a convicted felon is always charged as another felony, regardless of the intended or actual use of the weapon. Penalties can increase when the gun is loaded or used in a separate crime.
Possession of Fully Automatic Assault Rifles and Sawed-off Shotguns — the National Firearms Act sets penalties for possession of these types of weapons. Rifles are considered automatic whenever they discharge more than one bullet per trigger pull. Smoothbore rifles are considered sawed-off when the barrel length is less than 18 inches. Violations of the act are punishable by 10 years in prison and the loss of the right to possess firearms in the future.
Carrying Concealed Weapons — concealed weapons charges are usually treated as misdemeanors unless there are other crimes alleged in addition to the weapons charge.
Possessing Illegal Ammunition — in federal cases, illegal ammunition usually involves "armor piercing" rounds. Several different types of ammo is considered armor piercing. This can include handgun ammunition constructed entirely of tungsten alloys, steel or depleted uranium; and handgun bullets larger than .22 caliber whose jacket has a weight of more than 25 percent of the total weight of the projectile.
Firing at Inhabited Dwellings — a dwelling can be considered inhabited if someone currently uses it, whether or not someone is inside at the time of the alleged shooting.
Passing through Airport Security with Guns — bringing a weapon on a plane is considered a felony whether it is used for a criminal purpose or accidental, and can be punishable by five years in prison and a $5,000 fine.
If you have been charged with an illegal firearms charge, contact criminal defense attorney David M. Dudley.
Firearms Allegation Defense: Selected Case Results
U.S. v. A.M.: Police officers allegedly observed the defendant discard a handgun while they were pursuing him. Federal authorities charged him with being an ex-felon in possession of a firearm. At trial, the defense argued that the officers were lying and had actually planted the gun near the site of the defendant's arrest. A jury found the defendant NOT GUILTY.
U.S. v. R.S.: Police officers arrested the defendant in an automobile with several fully automatic assault rifles. The United States Attorney charged him with possessing illegal firearms. At trial, the defense argued that the guns belonged to another man who had fled from the car just prior to the defendant's arrest. A jury found the defendant NOT GUILTY.
U.S. v. J.W.: A federal cooperating witness alleged that the defendant had possessed a handgun while conducting a multi-kilogram cocaine transaction. At trial, the jury found the defendant NOT GUILTY of the allegation that he carried a firearm in furtherance of a drug-trafficking offense.
U.S. v. A.G.: Undercover drug agents observed the defendant, a convenience store owner, in possession of a handgun while he was delivering boxes of pseudoephedrine to them. At trial, the jury found the defendant NOT GUILTY of the allegation that he carried a firearm in furtherance of a drug-trafficking offense.
S. v. J.S.: Multiple civilian witnesses alleged that the defendant had brandished a firearm in a restaurant. The District Attorney charged him with felony firearms charges. As a result of aggressive defense investigation, the prosecution ultimately DISMISSED all charges.
S. v. A.B.: Police officers searched the defendant's convenience store and discovered a handgun inside. Before trial, the court granted the defendant's motion to suppress evidence due to the officers' unlawful warrantless search and the felony firearms charge was DISMISSED.
P. v. J.T.: A police raid uncovered several ounces of cocaine and multiple weapons at the defendant's residence. The defense eventually negotiated a plea agreement, resolving all felony drug and firearm charges for PROBATION with no jail time.
U.S. v. S.N.: While conducting a narcotics investigation, police officers found several kilograms of cocaine and a pistol in the defendant's car. Federal authorities filed drug and gun charges against the defendant, who then faced a statutory mandatory minimum sentence of 15 years. Pursuant to a settlement agreement, prosecutors DISMISSED the allegation that the defendant possessed the firearm in furtherance of a drug-trafficking crime and the court sentenced him to a total prison term of 5 years, well below the recommended advisory guidelines.
U.S. v. M.M.: While awaiting sentencing for a 300- pound federal marijuana offense in Texas, the defendant delivered over 100 pounds of marijuana to an undercover informant in Missouri while carrying a gun in his car. After the defense convinced the prosecutor in Missouri to DISMISS the charge that the defendant possessed the firearm in furtherance of the marijuana transaction, both cases were resolved for a total prison term of 37 months.
P. v. J.S.: Police suspected the defendant of involvement in an attempted shooting and searched his house, finding a fully automatic AK-47 assault rifle. After felony firearms charges were filed, the defense convinced a judge at preliminary hearing to DISMISS all charges.
P. v. D.M.: After the defendant was allegedly involved in shoot-out, police arrested him in his bullet-strewn Mercedes, seizing a firearm from him. The defense later negotiated a plea agreement in which all felony charges were resolved by a sentence of PROBATION with no jail time.
P. v. E.J.: Police found a handgun at the defendant's residence. At preliminary hearing, the court DISMISSED all felony allegations.
P. v. K.B.: Allegedly the leader of a major Los Angeles street gang, the defendant was caught by police while in possession of a gun. Facing state prison for being an ex-felon in possession of a firearm, the defendant received PROBATION for all charges.
U.S. v. T.C.: Raiding multiple residences during a lengthy marijuana investigation, law-enforcement officers seized numerous firearms from two homes belonging to the defendant. Federal prosecutors later charged him with using those guns in furtherance of a conspiracy to grow marijuana. Pursuant to a negotiated plea agreement, the United States Attorney agreed to DISMISS the five-year firearm enhancement.
U.S. v. D.L.: Defendant owned a retail store which had been repeatedly robbed. To protect the store, he purchased an illegal, sawed-off shotgun. Federal law-enforcement officers later seized that weapon at the store. In the district court, the defendant received a 24-month sentence for possessing an unlawful firearm. After hiring Attorney Dudley for his appeal, the defendant was able to obtain a REVERSAL of his sentence. On remand, the trial court re-sentenced the defendant to PROBATION with six-months of electronic monitoring.
S. v. J.P.: While passing through security at JFK Airport in New York City, the defendant was caught carrying a loaded semi-automatic handgun in his carry-on bag. Facing the same mandatory prison which notable rappers and professional athletes have actually received, the defendant benefited from a plea agreement pursuant to which Attorney Dudley negotiated a DISMISSAL of all criminal charges in exchange for agreeing to the forfeiture of certain jewelry which arresting officers had also seized from the defendant.